Internet Crimes Against Children Task Force

The ICAC Task Force was created to help Federal, State and local law enforcement agencies enhance their investigative responses to offenders who use the Internet, online communication systems, or computer technology to sexually exploit children. The Program is funded by the United States Department of Justice, Office of Juvenile Justice and Delinquency Prevention.
​​The ICAC Program is a national network of 61 coordinated task forces representing over 3,000 federal, state, and local law enforcement and prosecutorial agencies. These agencies are engaged in proactive investigations, forensic investigations, and criminal prosecutions.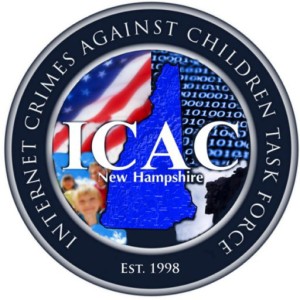 The New Hampshire Internet Crimes Against Children (NH ICAC) Task Force was established in 1998 and is responsible for investigating cases of child sexual exploitation involving the use of high technology throughout the state of New Hampshire. Such crimes include child prostitution, online solicitation of minors, and the possession, manufacturing and distribution of child sexual abuse images.
This program enables law enforcement agencies work together to acquire the technical skills, specialized equipment, and resources to effectively investigate and prosecute offenders. The NH ICAC Task Force is a multiagency, multijurisdictional organization that has developed responses to prevent, interdict, investigate and prosecute internet crimes against children.
The Task Force works in partnership with local, state, and federal law enforcement agencies, New Hampshire State Police, New Hampshire Attorney General's Office, United States Attorney's Office, Homeland Security Investigations (HSI), FBI, U. S. Secret Service (USSS), U. S. Postal Inspection Service (USPIS) and the Naval Criminal Investigative Service (NCIS).