Dedication of New Police Facility
In the fall of 2012 a great opportunity came before the town when the Major's approached the town with an offer to donate their buildings and land to the town. In December of 2012 the town held a public hearing and accepted the donation from the Majors. It cannot be stated clearly enough that without this donation the desire of the town and need for a new facility to be on Main Street would not have come true. We have recognized this by placing an engraved granite bench in recognition of the Major's land contribution in front of the building. We thank them for their generous donation and making this facility a reality.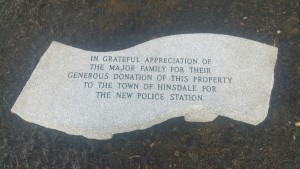 In March of 2013 the taxpayers of the Town spoke loud and clear voting to approve the construction of a new police facility on the Major property.
Throughout 2013 the town officials worked tirelessly to purchase the property of 12 Main Street and address boundary issues and prepare the legal paperwork to begin with the demolition and construction process.
I would also like to make a special thank you to all of the highway and water department crews for their help. They have been instrumental in helping us make this building a success and their hard work has saved the taxpayers thousands of dollars.
---
In 2001 the Hinsdale Police Department was faced with the need to hire a new Chief and leader. After a lengthy process we were blessed with the hiring of Chief Wayne Gallagher. Over the next 11 years Chief Gallagher took our police department to a new level and made us a benchmark agency in many areas. He is an outstanding leader, mentor, teacher, friend and co-worker. Chief Gallagher brought out the best in us, encouraged us to take on new roles, trusted our abilities and made them better.
On a personal note I can say that he became someone I have immense respect and admiration for and my career and success would not have been possible if it was not for him personally mentoring me and our friendship.
Over 6 years ago Chief Gallagher also had a dream to move us into a new police station. He designed the building, worked hard to come up with out of the box ideas and did what he could to push for this building. In April of 2012 he retired as our Chief having not completed his final dream of leaving us with a new building.
Well, 8 short months later his dream became a reality. Chief Gallagher did not abandoned us though and right up until a few weeks ago he and I spent many hours building lockers and working inside of his building.
In recognition of Chief Gallagher's outstanding leadership it is with great honor that I dedicate this facility to Chief Wayne Gallagher. We have created a commemorative plaque that will be displayed in our front lobby for all to see when they come to visit us.
Wayne…. thank you for all you have done for us and this will always be your building and you will always be our Chief.
Listen to the WTSA Press Release for this dedication –